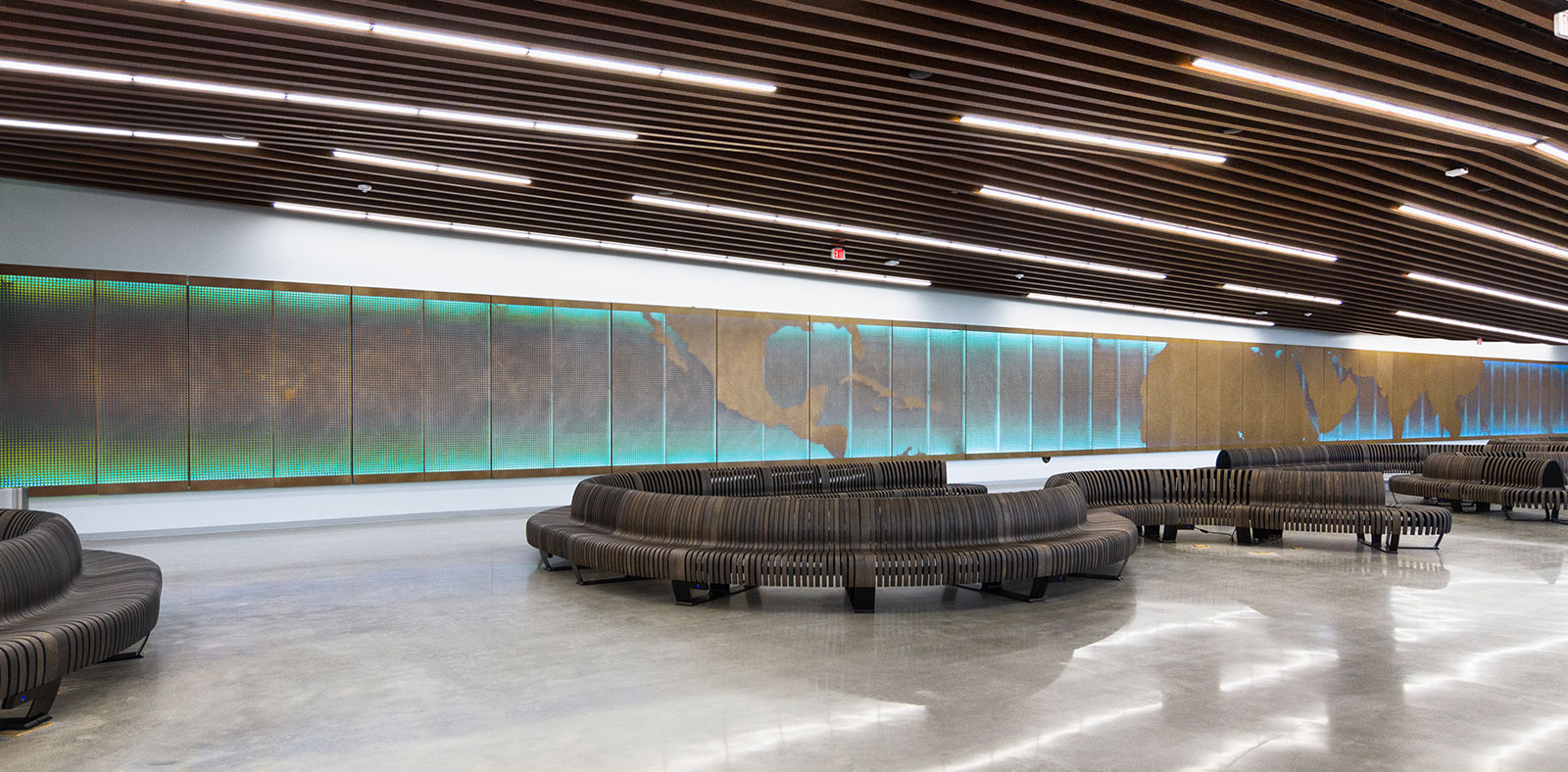 Visual Voyage
Fort Lauderdale, FL
Visual Voyage is an interactive light wall that features a stylized map that circles the equator. Triggered light bars mimic the sun's path as it travels along its axis. The wall is backlit with a controllable LED lighting system that is programmed with colorful animations that flow across the map. Passengers waiting to embark on a cruise can connect via smart phone to interact with the moving lights.
The permanent installation is located inside the Port Everglades Cruise Terminal 25, which is the homeport for Royal Caribbean Cruise Lines new ship Celebrity Edge. The artwork stretches across two large sections of wall with 76 individual panels covering a length of 260 feet with 12 foot tall panels and a faux painted bump-out connecting the two walls.
The light is controlled by viewers sending a text with the word EAST or WEST, causing the sun, represented by moving light, to travel through each of the 24 international time zones featured on the map. Viewers can move the sun to the end of the map and across the international date line. Once the sun passes this line, a "light show" of patterns and effects cross the entire installation.
The sun effect is achieved with Traxon AC HO RGBW Cove LED backlighting, focusing a "hot spot" of light along the sun path line, casting light up and down the wall behind the perforated panels. The backlighting is comprised of 24 zones of light, suggesting the time zone that delineates a section along the north-south axis of the globe. The custom CNC-routed 1/8" brakeformed panels are finished with Matthews Noble Metallic Gold Paint.
When the Interactive Light Wall receives no text message input, the installation goes into "dormant state" in which the light moves slowly from east to west, transitioning between each of the 24 time zones every 7 seconds and crossing the entire length of the two walls within 3 minutes.
Design

What We Provided
Project Management
Material Specification
Engineering
Prototyping
Custom Fabrication
Field Services
Installation